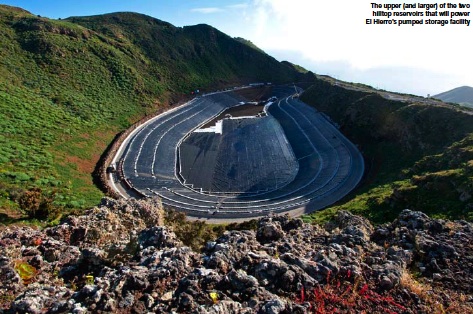 The UK's energy prices are soaring. As gas and oil reserves run dry, the cost of energy will continue to climb. But what if we could wean ourselves off fossil fuels and make the jump to clean, renewable energy?
This is exactly what a small island off the coast of Africa plans to do. With a population of 11,000 people, El Hierro is building a solution to its mounting energy costs. As the most remote Canary Island, it struggles to meet the high price of shipping oil from the mainland. But what the island lacks in fossil fuels it makes up for in wind – over 3,000 hours a year of gusts blowing fast enough to propel windmills and generate
electricity.
And on the rare windless day, El Hierro hopes to bridge the gaps in its electricity supply with the ultimate energy cache: a 500,000m cubed reservoir some 700m up inside the island's dormant volcano. When the power supply dwindles, the reservoir
can be drained downhill through turbines to generate electricity.
:: Read more here ::