I've spoken and chaired events at international science festivals and conferences, and run workshops at institutes and universities in Canada, US and the UK. I also hold a sessional lecturer position at the University of Toronto where I teach evolutionary biology to non-science majors.
Speaking/interviewing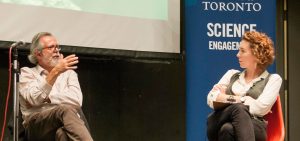 I've spoken on panels about women in science at international conference, chaired panel discussion at events such as Toronto's Science Festival and Science Rendezvous, and given public lectures about Darwin, evolution and the difficulties of communicating science to non-specialists.
If you'd like to invite me to speak at your festival or event, please get in touch.
---
I teach scientists and journalists how to communicate complex ideas clearly, write persuasively, and speak effectively with those outside the scientific community.  These workshops are highly participatory,  involve lots of role play and help people overcome their insecurities about how they communicate.  I've taught undergraduates, postgraduates, and heads of labs from a broad range of backgrounds, including chemical engineers, applied chemists, biologists, geneticists, archaeologists, medical doctors, and journalism students.
What people have said:
"The workshop and writing task have taught me a lot about science communication. I really enjoyed this type of work and will definitely try to pursue more opportunities in this field." – Stephanie Lefebvre, University of Toronto
"I really enjoyed the workshop. I found it very insightful and found the exercises to be very useful." – Janice Ting, University of Toronto
---
I've been a lecturer at the University of Toronto for the last six years. I teach students majoring in the arts how evolution shapes the diversity of organisms on the planet; from the evolution of parasites, predators and prey, to why organisms have sex and cooperate, and from how natural selection acts on us, and our ancestors, to how we select on our environment.  For me, the most important teaching goal is to arm students with the ability to understand what knowledge and evidence is, how to use and interpret it, and how to evaluate information critically and sceptically.
What people have said:
"The course brightened up my Tuesdays and Thursdays, and I always looked forward to it. In fact, on days when I couldn't attend class due to other commitments, I was so disappointed. Your demeanour makes you a pleasure to listen to lecture, and it is evident that you truly care about the success of your students. This course ended up being one of my absolute favourites of all my undergrad." – Melissa Campoli, Engineering, University of Toronto (2018)
"I really enjoyed your class. It was actually one of the best and most informative classes I took in my undergrad. Thank you for sharing all the facts with us." – Robin Nemesszeghy, Computer Science and Linguistics, University of Toronto (2017)
"They say in order to have mastered something, you should be able to teach it to someone else, and the prof and TA have done an extremely great job. Never have I seen a class so attentive." – from University of Toronto student evaluations (2016)
"Jennifer was an engaging and interesting lecturer and made use of different media in her lectures to contribute to her explanation of course concepts, which I thought was both extremely helpful and indicative of her dedication to students' understanding and taking away something substantial from the course." – from University of Toronto student evaluations (2016)
Here are some more comments from past students.
---